Shree Momai Engineering Works
Being one of the major industrial driving forces in the engineering field, Shree Momai has been considered as one of the leading manufacturers and exporters of Pressure Cooker Parts, Water Filter Parts, S. S. Fasteners, Swan Faucet, Automobile Parts, LPG Gas Stove Parts, Brass extruded rods, Brass extruded profiles, Brass extruded section, and Sanitary Parts in Gujarat, India.
Since the inception of the company in 1998, it has experienced rapid growth in manufacturing and supplying the products used in home appliances and water purification or electrical industry with unmatched qualities. The company has earned the reputation as a trustworthy supplier of world class brass electricals and plumbing, brass moulding inserts, water filter/RO parts, pressure cooker parts and brass rods.
Our manufacturing expertise has made us confident to provide the best products to our customers beyond their expectation in terms of broad varieties in different metals, cost effective rates, prompt delivery and wonderful dealing experience. We integrate technology with industry requirements precisely and have established our strong presence in the domestic and international market that feels us as well our employees proud to be a part of Shree Momai Engineering Works.
Company Infrastructure
Highly modernistic and state-of-the-art infrastructure at Shree Momai Engineering has been facilitated with the latest machinery and equipment, which are used to achieve the firm's predefined goals and targets. The facility keeps on upgrading regular basis to attain a better market position.
Vision
Our vision is clear to be the most dynamic and customer-centric company to deliver best engineering products across the globe. We endeavour and carve our self to utilize our knowledge and expertise in the most efficient way, where people can rely on and get different precision parts used in various industries.
Core Purpose
To enrich people's lives with gilt-edge upsurge by providing valuable and quality solutions.
BHAG (Big Hairy Audacious Goal)
To be as respectable as "TATA" and be a 21 billion turnover company by 2030
Our Core Values
We act with Integrity
We are committed to superlative level of moral, honesty, business ethics and integrity in every business conduct.
We act with Integrity
We serve EVERY individual in the ecosystem with mutual respect and dignity, and in a way we want to be treated.
We deliver Quality.
What we do, we do well, and we are committed to highest level of quality and services in all aspects of our work.
We Stand Responsible
We are responsible for our commitments and actions. We know that accountability is the foundation of organizational effectiveness.
VIVID DESCRIPTION
By 2030, Shree Momai Group will acclaim a prominent presence and leadership in kitchenware industry.
Shree Momai Group is committed to in-depth research and innovations and will achieve 20+ patents for rich and diverse contribution to the Industry by 2030.
Shree Momai Group will transform by leveraging more than 50% business revenue from export with excellent productivity and worldwide delivery.
By 2030, Shree Momai will be having GPTW award, which will exhibit high-trust workplace culture to explore the efficiency, passion & business skills of employees. The company will be in real sense a "Great Place to Work".
Shree Momai Group will dominate every kitchen by 2030, acquiring love and dignity from people across the globe.
By 2030, Shree Momai Group will be an efficiently managed company by expert professionals from different fields.
Shree Momai Group will lead the industry with at least 5 subsidiaries under the Group by 2030, with enhanced capacity and productivity.
Shree Momai will be highly active in all media and well recognized in social media, internet, television, news agencies etc. for its distinguished contribution to the industry.
Shree Momai Group will be on top 10 positions and highly recognized among the industry by 2030.
Physical and logical presence makes a big difference in business. To gain both verticals, by 2030, Shree Momai Group will have corporate office in Ahmedabad that will be known for its business excellence.
Shree Momai Group will be a prompt helping hand towards underprivileged people and children from the own trust by 2030.
Products Excellence
The impeccable quality has remained our hallmark for years now. Our products go through a stringent quality check at every stage of the production process and are inspected thoroughly by our skilled QA team before delivered to the end users.
Products are manufactured from the best quality raw materials that undergo the international standard quality control system to produce the world-class furnished products. This ensures of sturdiness, dimensional accuracy, durability, resistance to corrosion and much more. Our advanced laboratory is equipped with ultramodern types of equipment to check the product at every stage of production to ensure the perfect quality and durability.
R&D Department
Research & Development is one of our core strengths to get product innovations every now and then. We know the importance of our client requirements, which are constantly changing over a period. We also believe that these products must be competent for good integration with the changing requirements. Our advanced R&D laboratory puts up efforts, round the clock for quality improvements and new inventions.
Our Team
Dedication, determination and skilful approach of our enthusiastic workforce, along with the overwhelmingly positive response from our clients' has paved our ways to success and helped us to recognize as one of the top most international exporters of engineering products across the globe including the USA and other countries.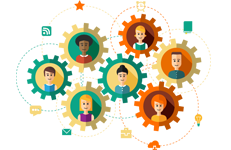 Customer Support
Our customer-centric philosophy has achieved us a great success while defining, developing and distributing each of our existing and new product. Our quality consistency and commitments fulfilment have led us to give industry best customer services. Our high business values, positive attitude of listen to our consumers and help them have incurred a good reputation and worldwide customer base.
Owing to the assistance of experienced management, skilled human resource, R&D specialists, and OEM facility; we are able to garner a huge client base with great satisfaction.